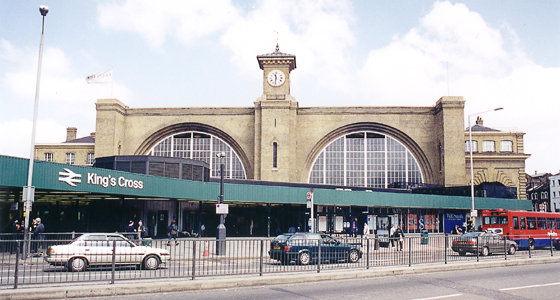 King's Cross Station
If St Pancras is about romance, Kings Cross [note designed by Lewis & Joseph Cubitt in 1851–2] is about function, its façade simply being a screen to the end of the twin arched sheds over the arrival and departure platforms.
Very few traces of British Rail's 1964 corporate identity exist here. Perhaps their privatised successors Railtrack, viewed it as too brutal. King's Cross was re-signed in 2001, with trendy colours and a new typeface: they are in no way an improvement.
Details list – click to switch the current detail
All stills for King's Cross Station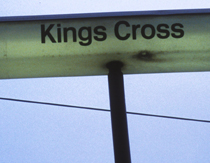 The Rail Alphabet still survives on some of the station's lampstands.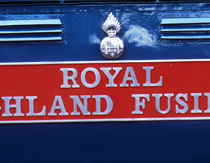 Before the 1964 identity, British Railways favoured the nineteenth century clarendons for locomotive nameplates, even for its most powerful diesels.
New Railtrack signs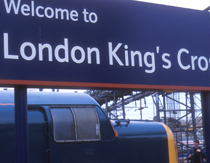 King's Cross, new and old. Deltic 55019 (in service 1961–80 and now restored to 1977 BR condition) on a charter train, 13 April 2002, under one of the new station signs. Building work in the distance is for the new Eurostar terminal at St Pancras.